Haiti
Related Topics
Sirona Fuels Launches Jatropha Community Farming in Haiti
Green Car Congress
APRIL 27, 2009
California-based Sirona Fuels began Jatropha planting operations in Haiti over the past month in a joint venture with 3C Missions, an organization that has established a relief fund for more ethan 1,100 orphaned children in Haiti. Sirona intends to harvest and crush the Jatropha in Haiti, and refine it into a high-quality B100 Biodiesel in the United States.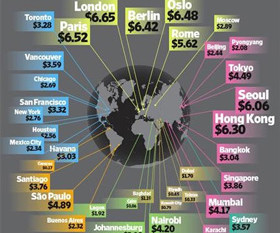 Global Gas Prices | Hybrid Sales
Hybrid SUV Blog
FEBRUARY 15, 2010
Haiti. sales of hybrid SUVs and other fuel efficient vehicles will prove interesting to watch this year, especially if fuel prices remain relatively low. Expert predictions about where oil and gas prices are headed vary widely.