Grenada
Related Topics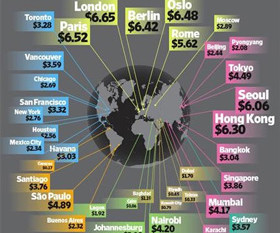 Global Gas Prices | Hybrid Sales
Hybrid SUV Blog
FEBRUARY 15, 2010
Grenada. sales of hybrid SUVs and other fuel efficient vehicles will prove interesting to watch this year, especially if fuel prices remain relatively low. Expert predictions about where oil and gas prices are headed vary widely.
AOSIS: 1.5 to Stay Alive
Green Car Congress
SEPTEMBER 11, 2009
Speaking at a seminar in New York to prepare vulnerable country negotiators for upcoming talks in the lead-up to the crucial UN Climate Change Conference in Copenhagen this December, Ambassador Dessima Williams, Permanent Representative of Grenada and Chair of AOSIS, touted "1.5 The 42-member Alliance of Small Island States ( AOSIS ) is calling for a 1.5°C C limit to temperature increases.